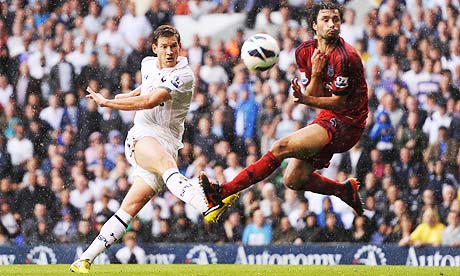 Two games gone, two fine performances, two lacklustre results. Does that sum it up? It does for me.
Newcastle away, as everyone says, was always going to be tough, We played very well; we were organised, disciplined and hit the post twice. Unlucky.
West Brom at home is one of those games some fans would call 'a banker', but those of us that have watched Spurs beyond the recent years, with our relative success, would say it was one of those games we were always likely to slip up in. That's not to say we've slipped back into those dreary days of the late 90's-early 00's, but it was 'one of those days' for Spurs.
Like a few games last season, we dominated most of the game, had an overwhelming majority of possession and more shots than the opposition. But a disappointing spell led to a late equaliser. Same old Tottenham eh?
Not quite.
Again there were signs that Villas-Boas was slowly putting his stamp on the team, and more so on the squad, as Michael Dawson and Tom Huddlestone were both missing from the squad again.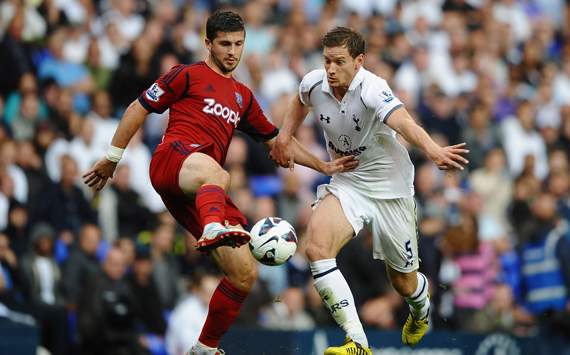 Following on from Newcastle, it was obvious that the team was working hard during the week on the structure and style of play that the new Head Coach wants to implement but despite some nice approach play, we rarely tested Ben Foster in the West Brom goal.
Jan Vertonghen impressed on his debut, though both he and Gallas struggled to deal with the physicality Roman Lukaku brought to the table when he came off the bench in the second half, possibly showing we missed Younes Kaboul at the back. Vertonghen showed a willingness to get on the ball, and to step out of defence and bring the ball forward, almost culminating in a goal, but his volley blazed over the bar.
It's been said on twitter all weekend that it's far too early to judge the team because there is likely to be numerous transfer deals before our next league game and the closing of the summer transfer window. I've already mentioned Dawson and Huddlestone, the latter of which is most likely to leave, while other fringe players could be sold before Friday's deadline, along with Luka Modric.
Villas-Boas has already said we're looking for another midfielder, while he has led us to believe there will be no further movement in our front line, opting to stick with Emmanuel Adebayor, Jermain Defoe and Harry Kane. While this isn't a popular decision, it could be an attempt by Villas-Boas to take attention away from any possible acquisitions. A creative, deep lying midfielder appears to be top of the list, while the media continues to suggest we are pursuing another goalkeeper.
Tottenham supporters, like fans of every other team, can be prone to the odd knee-jerk reaction, especially when we don't win games we're expected to. I'm hoping that the majority of us, or at least the wonderful few of you that read this, will continue to back the team, the coach and the chairman, knowing that they all want the same things we do.
Rome wasn't built in a day, though I'm not sure they had an 11pm deadline.